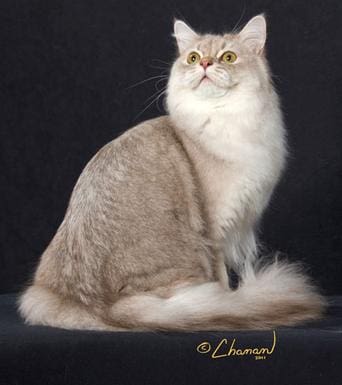 Kasanovakatz Casanova "Twystyr"
My name is Stephanie Mohr. I was born and raised in Northern California and moved to Northeast Washington state, near Spokane, after retiring in 2018. I have a background in animal care from my first career as a Registered Veterinary Technician. I worked for several veterinary hospitals between 1982 and 1987, then worked for Sacramento County animal services until 2004. Next, I worked for the Sacramento County Sheriff's Dept. as a Records Officer, a non-sworn position, until my retirement in 2018, My history also includes raising, training, and competing with my German shepherd dogs in the dog sport of Schutzhund. My husband, Russell, is a retired Wildlife Biologist from California State Fish & Wildlife. 
Our first Burmilla, a pet-quality kitten, was adopted in 2010, from a breeder in Montreal. Casanova is his registered name, but we call him Twystyr. Not long after adopting Twystyr, I learned that there was a small group of breeders going through the process to gain full recognition of the breed in the CFA (Cat Fanciers Association), which would advance the breed to championship status. I wanted to be involved and help the cause, but I soon realized the only way I could help was to breed and show Burmillas.
I thought about this long and hard, as breeding requires 100% dedication and commitment. After making the decision to breed Burmillas, I immediately began working with other established breeders to get started with our breeding program.
CFA accepted Burmillas in 2014. Not long after that, I became the self-appointed leader in the process to gain recognition (championship status) in TICA (The International Cat Association). TICA accepted Burmillas in 2015.
Over the past twelve years, our cattery has produced many successful show cats, as well as wonderful kitties placed into adoring pet homes.
Show titles and awards earned include:
19 Grand Champions in CFA

4 Grand Premiers in CFA (Alter class)

4 Supreme Grand Champions in TICA
2 Distinguished Merits in CFA (Queens that produced 5 Grand CH)

4 National Awards in CFA, including Cat of the Year (Best Cat)

Numerous Regional Awards in CFA and TICA
We continue to strive to produce Burmillas, which can compete in the show ring and contribute to our breeding program and share with other breeders in the United States, as well as around the world. Those not chosen for show or breeding are adopted to loving homes.