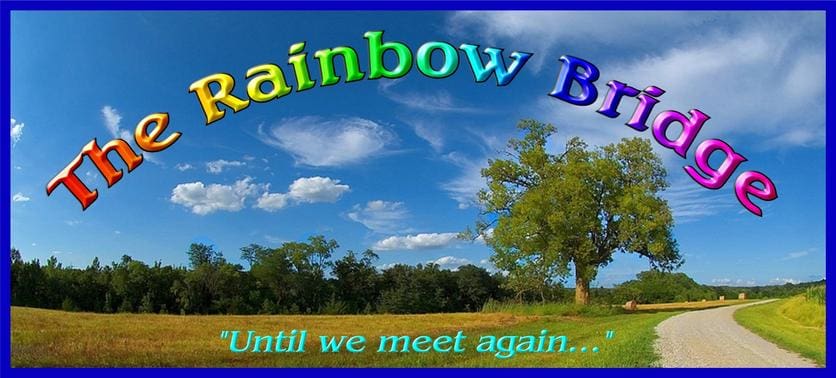 T.C. Has Ascended to the Rainbow Bridge (11-5-13)
Saying goodbye to 20 year old T.C. was the day Russ and I long dreaded, but it was time. Thank you T.C. for being the most wonderful kitty... We miss you every day.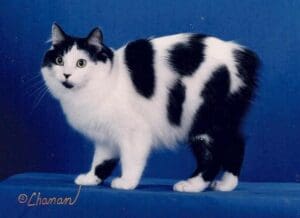 SGM, TICA 96-97 Best International Household Pet (HHP), T.C. was the most amazing cat. This is not just our own biased opinion. All who met the gorgeous black and white, longhaired, tailless cat became smitten with his calm and sincere sweetness. T.C. honestly loved everyone. This included humans, other cats and dogs. He was always to first to greet any guests. I really believe T.C. was certain they were there to see him.
The beginning was a bit scary for T.C.. At about 7 months of age he was trapped and brought to the Sacramento County animal shelter, where I worked at the time. My co-worker and friend, Joy, had already noticed him and pointed him out to me. Initially I had no intention of taking him home, as Russ and I were still grieving the loss of our beloved kitty, Marigold. Long story short, after T.C. got an upper respiratory infection, I had to save him. I will never forget the evening I brought T.C. home. He was laying on my lap when Russ arrived home and immediately leaped from my lap to Russ'.  We knew immediately that he was here to stay.
​T.C.'s name was actually the product of Russ and I failing to agree on a name. The letters initially stood for "The Cat". During his show career, one of his competitors said T.C. should stand for "Too Cute". I agreed, though Russ did not.
T.C.'s show career began from a  chance meeting at a CFA show, where I met Gloria and Wayne. They encouraged me to enter their upcoming TICA show and Gloria taught me how to bathe and groom my kitty.  T.C. was an apparent superstar and took the TICA HHP class by storm. He earned his Grand Master Supreme title (HHP championship) in three shows and I thought that meant he was retired. Not so, per my friend Gloria. She convinced me to campaign T.C. the following show season. I will never forget her words when I quizzically asked her why I would continue to show him. Gloria said he could win Best International Household Pet. She was right.
More special memories of T.C.:
T.C. welcomed all newcomers to the household. Over the years, I raised several German shepherd puppies. T.C. would immediately greet the puppy and then play with him. His unfortunate undoing was teaching the puppies to chase him. This wasn't a problem until the puppy was large enough to run him over. T.C. was always puzzled when this happened and continued to want to "play" with the puppy.
When our imported Burmilla, Gizmo, arrived from Australia, he was absolutely terrified and hid under the bed for several days. One day, T.C. marched in the room, went under the bed, walked up to Gizmo, softly touched his nose (with his) turned around and walked away. T.C. did not succeed with getting Gizmo to follow him out at that time, but the meeting had a calming effect which helped Gizmo begin to adjust. Gizmo and T.C. became fast friends and Gizmo seemed to worship T.C.
T.C. loved the babies. Whether they were foster kittens or Burmilla kittens, T.C. was always eager to meet and inspect the new ones. Once they were old enough, T.C. would gently play with them.
When T.C. was younger and wanted to be held, he would jump up for us, anyone actually, to catch him. We knew the "I'm coming" look and were always prepared. Those who didn't, received a big surprise. Unfortunately, a few of these attempts ended badly, but this did not deter T.C. from trying again. Once he became too old to jump up into our arms, T.C. would paw our legs to ask us to pick him up for a snuggle.
T.C. loved cologne. Anyone wearing it was subject to being licked to death in the area(s) the scent had been applied. As T.C. was licking the cologne, he seemed to be in ecstasy.
​During T.C.'s short but successful show career, his performance in the ring was based upon how the judge handled him. If the judge cuddled him, T.C. attempted to climb onto their shoulder. If the judge petted him on the judging table, T.C. flopped on his side and gazed into the eyes of the judge and the spectators. If they simply placed him on the judging table, T.C. would sit and gaze out at the audience. Of course, the judges came to know T.C. and would often allow him to demonstrate his antics.
​T.C. is the reason we have Burmillas.  Several years ago, I began a search for a breed which had T.C.'s characteristics: calm, sweet, adorable and gorgeous with green eyes.
Below are comments from people who knew T.C. :

Joy Walker-White:  So sorry to hear of TC's passing. I know how much he was loved.
Joy Walker-White:  From Humble beginnings to a bright and shining STAR. RIP TC....
Stephanie Mohr: Thank you Joy Walker-White. If you hadn't pointed out the stray black & white kitten to me at  the shelter, we probably would not have known this special boy.
Joy Walker-White:  As I sit here crying I just remember what a cute Kitten he was. But what a life he had with you and Russ. Bless you for saving his life.
​​Stephanie Mohr:  As I sit here, now crying again, I know just how thankful T.C. was every day of his life.
DeAnna Cormany:  Awww TC..  I loved him, he was one cool cat! I will never forget coming to your house and he would get a funny look on his face and then, flying cat... he would land on my shoulder...  he was one of a kind....    So sorry Steph.... Hugs
Gloria Mahan:  I am so sorry. He was so handsome and wonderful. I know how much you both loved him.
Julia Priest:  What a beautiful kitty spirit he was in a beautiful kitty body. Hugs for you and Russ.
Maria Mayfield Naumann:  So sorry. I remember when you got him. Cutest little guy ever!
Bobbie Tullo (TICA Judge): I remember him....... he was beautiful inside and out.. I am so sorry for your loss.
Carol Wanner:  I only met TC as an old kitty; but what a sweet cat he was... I'm so sorry Stephanie...
Brigitte Cowell Moyne:  I'm sure it was hard to say goodbye, that is a lovely tribute to your wonderful T.C. Big hugs to you!
Kathryn Sundin:  I too, love that cat - and I will miss his greetings on delivery days, when he would meet at the door and tell me I was his favorite. He always did that; and he always meant it. Rest in peace TC - I love you, miss you, and remember you with love. bye-bye.

​Gretchen Mohr:  I am truly sorry to hear that "TC" is no longer a member of the family. I know that you and Russ adored him as he was a very special cat with a great personality. I have fond memories of our trip to Anaheim when TC was recognized as the best domestic cat in the US. He certainly collected a lot of ribbons and trophies on his way to the top. I had never been to a cat show before and I was truly surprised by all of the different breeds. But in our opinion he was the "top cat" of the show.
​Abigail Emmons:  This is a beautiful piece, so full of love and appreciation for you, Russ and TC. Your cat had the same gift that Millie had - the knowledge of how to reach out to people - whoever they were - and spread around the love that was being given to him.  And the writings prove there was plenty of that going in all directions all the time.